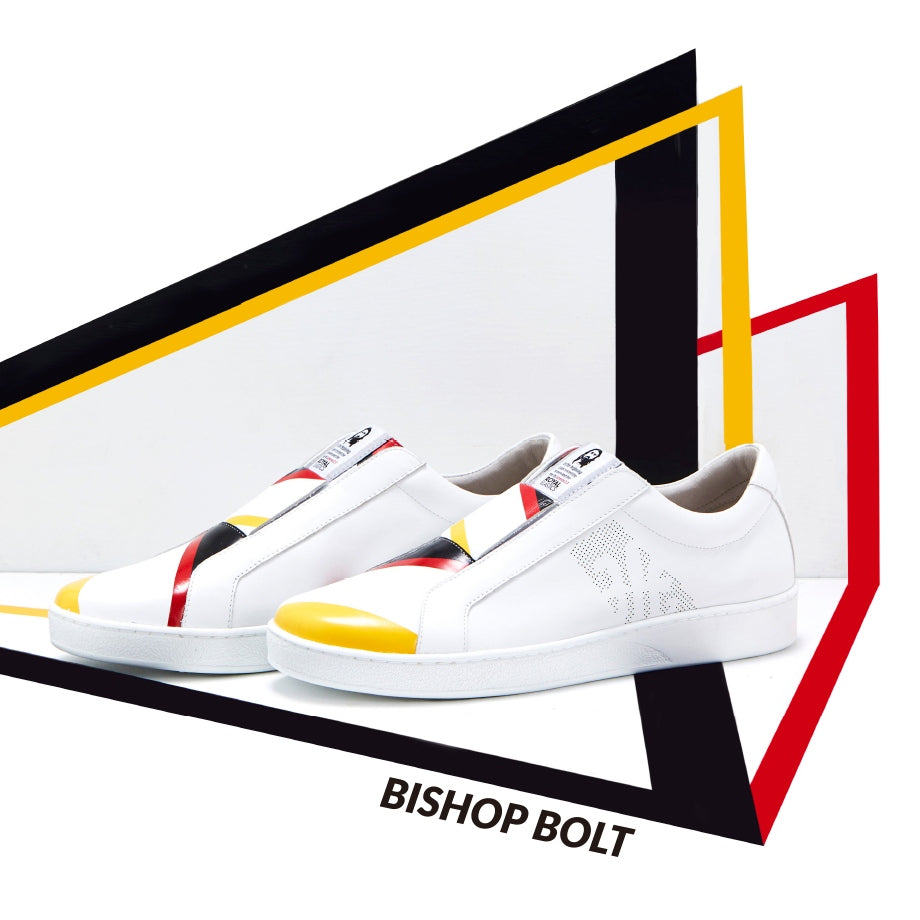 BISHOP BOLT: Sparks Ignite with Thunderbolt Inspired Design
BISHOP BOLT is the latest addition to the BISHOP series; a newly launched line, beginning this spring and summer season. In keeping with the current season theme of URBAN FUSION, this latest collection seeks to blend contrasting elements of formal with casual, high-end fashion with everyday street wear, and modern with retro. The creative blend, and fine and delicate crafting of these various elements into the overall design, has resulted in a premium final product that is both aesthetically pleasing to the eye, and equal in quality, in terms of comfort and practicality, thus a creation that is a true embodiment of Royal's innovative DNA.
A characteristic feature of this series, is the vibrant upper design of the sneakers, which features a series of bright color line and block patterns, resembling a lightning bolt. These appear in a combination of black, red and yellow on the white bodied version, and in purple and two hues of blue on the black version. The featured vibrant color combinations and line and block pattern designs were selected not only for their representation and resemblance of the forceful nature and high energy of a thunderbolt by day and by night, but has been further inspired by the colors depicted by the retro hip-hop scene. 
Another key feature of the design, is the unique biblical scripture inspired label tongue, which features an image of Jesus, and furthermore, is printed with the very first verse from the bible 'In the beginning God created the heaven and the earth' – Genesis 1:1. The two color designs available in the series - white and black, represents day and night, which has further significance and symbolic meaning tied to the aforementioned verse. When accompanied with the bolt design, it is a creative depiction of power in creation. The name of the series BISHOP- BOLT is thus a creative blend of these two key design inspirations.
With the uppers taking clear inspiration from retro and classic elements, the design also seeks to inject modern and high end-fashion elements, which is evident through the sneaker's overall smooth and slim line silhouette. The simplistic mono-colored body, and fine, detailed and subtle detailing, by way of the micro perforated brand logo on the outer sides, provide a modern feel, and is a minimalist contrast and clear balance to the vibrantly designed uppers. These elements furthermore, draw in a feeling of timeless and effortless sophistication and luxury. Finely crafted from premium quality nappa leather, and lined with quality leather, ensures that the feeling of modern high-end luxury is not only seen but can also be felt.